People and parking: Like being stuck in a bad relationship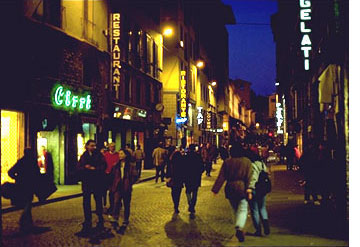 Just ask anyone who recently got a parking ticket. To quote Mark Frauenfelder, "It works on some level, and so you don't want to make that jump and take the effort to do it, but then once you do it, you realize you should have done it a long time ago." Unfortunately, for many of us there aren't any better prospects.
People who live in the coolest towns (Manhattan, Chicago, Seattle, Paris, Singapore, Prague) rarely own (or need) a parking space, so maybe this fact will help understand our parking dependency: We haven't built CoolTowns for at least 70 years, and local governments have been requiring parking with everything we build for about the same time. Why? Because they think it's good for their economy.
Maybe if we gave people the choice to live in a CoolTown without the expenses of parking (and a car) they could actually afford to go out every night! That's when a city's nightlife thrives, and so does its economy.
ps I ditched the suburbs and my free parking for the heart of the city right after I got a speeding ticket for going 43 in a 30 mph zone. I ditched my car after several parking tickets.