The Dairy Godmother is a cool 'third place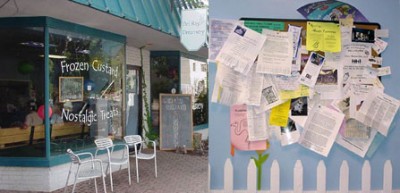 The most important task in building cooltowns is finding the passionate, visionary people that make it come alive… and Liz of The Dairy Godmother is one such person.
How did Liz and her Alexandria, VA Business of the Year become a community institution in just a year? She instinctively followed the principles of the experience economy, focusing on her customers as unique individuals and her frozen custard shop as one of a kind: She greets her customers by first name, recognizes their birthdays, posts their stories on her home page, fills her jukebox with 'dreamy' tunes, hosts fun events, provides Scrabble for the regulars, emphasizes the community bulletin board, and most of all you can tell she loves her job – "I can't imagine doing anything else!"
ps She had a former 9-5 job (see stuck in a bad relationship) and will never go back.