From basketball courts to medieval cities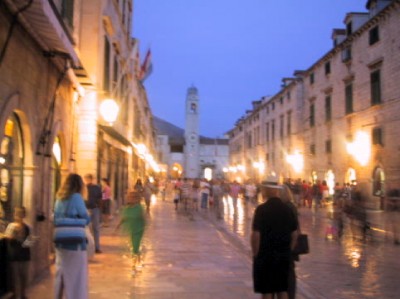 The Department of Labor released a study stating that 70% of what you know about your job is done so informally. Some say it's 75%. That's why in a CoolTown of entrepreneurs and artists, it's so important to have informal 'networking places' such as pubs, piazzas and basketball courts – which leads to today's story.
I present the medieval city of Dubrovnik, Croatia as a model urban fabric for a CoolTown. I've never been there and I've never heard about it before today, but someone on the basketball court between my home and office did. See first paragraph. He added that the streets in the photo below are shiny not because they're wet, but because they're as smooth as marble from centuries (literally) of walking. How's that as an incentive for walkable cities – marble streets!
Tomorrow I'll demonstrate just how this city is a model for a CoolTown's urban fabric.