Special Report: Update on Office Community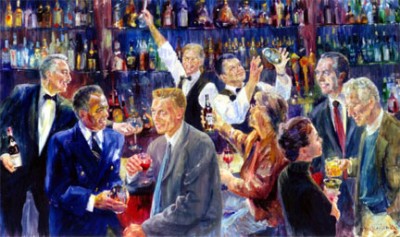 Affinity Lab happy hour: As promised, here's an update on my workplace's first community building event last Tuesday, based on the aforementioned principles. First of all, the anticipation of the happy hour created an unprecedented 'newsroom' buzz of activity a few hours before, and this new level of collective energy seemed to motivate productivity. Then, with a Lab-founder sponsored display of food and mixed drinks, a rhythmic set of tunes and some interesting lighting, the conversation was colorful, passionate and lasted late into the evening. The plan is do this monthly.
Netpreneur networking event: Several hundred 'netpreneurs' (internet-oriented entrepreneurs) gathered last night at the Hyatt Regency in Reston Town Center to network and hear from net-centric leaders (like Ted Leonsis of AOL). To me, it was kind of depressing, save for an inspiring presentation by Mark Walsh on 'timing', mainly because his former theatre skills came into play. The talk focused on how failures are inevitable, that things were much worse elsewhere and why you shouldn't give up. In my opinion, it was like a collection of people from BASF – "we don't make the products you use, we make the products you use better." BASF is a chemical company, and like the internet, is a means to an end. In other words, the conversations throughout the night focused on other people's products, none of who were present. There was little diversity in the crowd and ten or so speakers, the sound system never worked properly (seemed to fit the mood at this tech-focused event) and the venue was an isolated, upscale shopping mall surrounded by parking and a web of freeways – not the kind of environment entrepreneurs need, like say, a CoolTown?