Where 'Friends' meet for coffee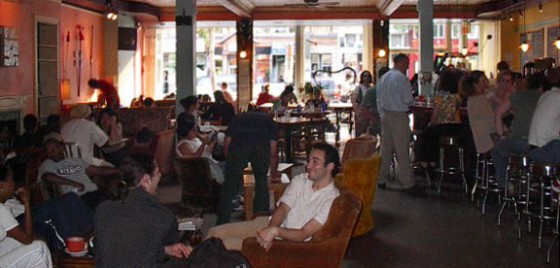 Where 'Friends' meet for coffee
Forget Central Perk, the sofa-laden coffee house where the characters of the TV show Friends meet up, Tryst has it going.
Let me count the ways to make a great neighborhood hangout: Provide lots of big comfortable chairs and couches for those who want relaxed conversation; a communal table for those who want to strike up spontaneous dialogue or collaborate on work projects; lots of small tables near the front for more intimate conversation and dining; or seating at the bar if you like the staff. Choice.
You can sit in the back where it's more private, or right on the street if you like the scenery; browse a menu in your hand or a giant handwritten blackboard listing coffees, teas, chais and smoothies along with a collection of sandwiches, pastries and waffles; order at the counter or be served. Choice.
Of course, there's the bulletin board, local revolving art on the walls and annual New Year's slumber party. Community.
Finally, did I say the wireless internet access is free? Not the $6/hr or $30/month rip-off @ Starbucks, but free! Cool.
Now that's how you compete with the big boys.