A meeting of 1200 urbanists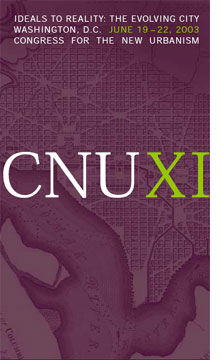 1200 urbanists met five blocks from my home at the annual Congress for the New Urbanism (CNU) conference in Washington DC last week. I owe a lot to the people who started this organization dedicated to improving quality of life in our communities through better planning and development.
While they are the largest group committed to the concept of New Urbanism, I have to stop short of saying they are active supporters of CoolTowns. CNU conference speakers and attendance are not very diverse in race, age and socioeconomics, and that's fundamental to a CoolTown. However, as referred to even in mainstream movies like The Matrix:Reloaded, non-diverse 'boards of directors' are not uncommon. Unfortunately the results are.
A more supportive perspective is that a diversity of movements are needed to build a CoolTown, and New Urbanism is one of them. Arts & entertainment, economic development, entrepreneurialism and social justice are others, and there are many more.