Can a CoolTown help create jobs?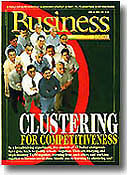 Yes, yes, yes.
To create jobs, CoolTowns focus on the intersection of three trends:
1. The clustering of local industry strengths, executed by Michael Porter and the Initiative for a Competitive Inner City;
2. An investment in creative people, businesses and industries to generate economic performance, as is statistically proven;
3. The Smart Growth/New Urbanism movement of investing in live-work environments that enable social interaction and community building.
Stay tuned tomorrow to see what happens when these three trends align strategically…