Celebrating the third place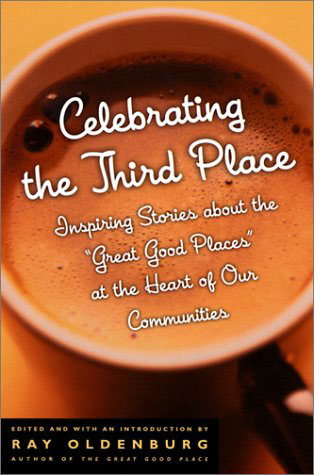 There's no better way to communicate the concept of the third place than to experience one. The author of the book on third places wrote a sequel, Celebrating the third place: Inspiring Stories about the "Great Good Places" at the Heart of Our Communities to help you out.
Here are the following third places listed in the book: Annie's Gift & Garden Shop, Amherst MA; The Third Place Coffeehouse, Raleigh NC; Crossroads, Bellevue WA; Horizon Books, Traverse City MI; Old St. George, Cleveland OH; Square One Restaurant, San Francisco; El Taco Nazo, Pomona CA; Tunnicliff's Tavern, Washington DC (I have to check them out!); Miami Passport Photo Shop, Hialeah FL; Good Neighbor Coffee Shop, Pensacola FL (author's hometown); Joe's Cozy Corner and Galatoire's, New Orleans; Civilization, Cleveland OH; The Great Good Gym, Atlanta GA; The Natural Ground Coffeehouse, The Sharpest Irony ?, The Blue Moon Tavern, Seattle WA; Planck's Cafe ?, Maxwell Street, Chicago IL; and the Coffee Beanery.
If any of you have been to any of these places, or know about any others, please comment below!