Does your local third place have its own CD?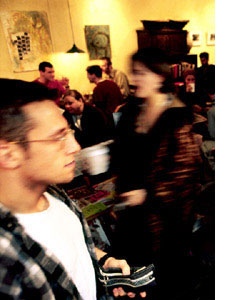 You would if you're the Third Place Coffeehouse in Raleigh, North Carolina. Their "Local Honey" CD is a compilation of local artists that have played at Raleigh's favorite third place, which is also featured in Ray Oldenburg's Celebrating the Third Place.
The popular watering hole is also known for its staff's musical compilations, that is, whoever is working the current shift gets to play their own music. So the place isn't only a venue for live bands, spicy conversation and great food, but a living radio station that one can 'tune into' when they know their favorite 'DJ' is on.
From a local review, "In the morning, businessmen and exercisers–both suited up for their own needs–drop in. It's a quick snack and they're out. At noon, post-graduates, bartenders and waitresses arrive after burning the midnight oil, one way or another. At night, teenagers congregate 'round the outside tables, couples and old friends inside, smelling beans and sharing stories. These aren't waves: They're smears, spread throughout Third Place's seven-days-a-week, 18-hour workday. A punk listening to Black Flag drinks his coffee beside a coat-and-tie architect reading The New York Times, and it's life as usual."
Check out the Third Place Coffeehouse a-day-in-the-life-of video here – now that's capturing the warm, homey, spontaneous, local spirit of a third place!