Investing in third places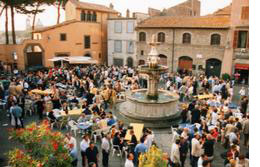 Progressive investors are hard at work to provide next generation communities where third places are the rule, not the exception. Here are some of the prerequisites for attracting third places:
1. Build an attractive environment for creative entrepreneurs, the very people who start third places. That's essentially a CoolTown.
2. Make tenant space as affordable as possible. The more creative, the more risk is involved, so a little financial support is vital.
3. Have hundreds of creative people live in the area who thrive on such places. Works with #1 quite well.
4. Establish a guild of third place proprietors that provides both financial and technical support for starting and maintaining their business.
5. Require a strong percentage of local ownership over national chains in the main street.
6. Build third places outside as well. If successful, these can literally redefine a community.