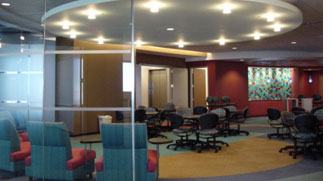 BellSouth, one of Atlanta's largest employers, is building three workplaces for 10,000 employees near three light rail stations. Not only that, but they're providing parking specifically for their employees at four outlying transit stations.* To top it off, three of those transit stations will have satellite office space.
Now the buildings and surrounding fabric aren't exactly creative or inspiring, but I'm sure the possibilities of zero traffic and adjacent, active nightlife is.
BellSouth's Metro Plan, as it is called, is based on the theme of "Building Great Places to Work". For instance, other than the friendly locations, every floor of every building has a stylish 'living room' of sorts for spontaneous meetings. How did they know the employees would use it? It was their idea. You could say it's the CoolTown way. Maybe that's why the positive response rate is 95%.
Here's another incentive: the monthly parking permit is $60 while the monthly light rail pass is $12. BellSouth expects 30% of the workforce to use transit.
*Ideally, that parking $ could go for down payments on housing near transit stations.