Exploring the city on wheels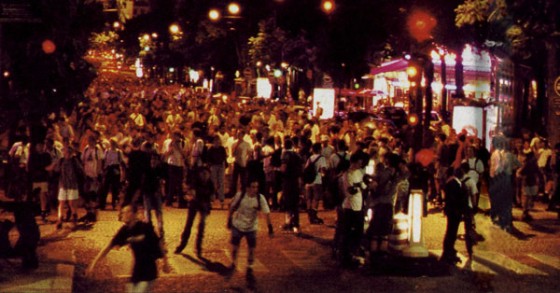 Wheels on your feet that is.
One of the most popular outdoor recreational activities is exploring, whether it's by foot, kayak or cross country skis. In the city, especially San Francisco and Paris, it's by skate. When you bring hundreds of them together on a Friday night, it turns into entertainment as well.
Let me describe the Friday night skate in San Francisco: In the early evening an average of 300-400 skaters (beginners and advanced) get together at the Market Street waterfront tower, quite the urban icon. From there, they skate to the famous Pier 39 fisherman's wharf (rest and socialize (R&S)), move on to the photogenic Ghiradelli Square (R&S), up a winding hill through a serene park and along the coast to the mausoleum at the Palace of Fine Arts, one of the most beautiful night scenes in the U.S. (R&S). Then it's on to the Pacific Heights main street (R & S), up to an urban playground (R&S) through China Town and down a tunnel to Union Square (the most popular plaza in SF, R&S), and down the main drag of SF (Market Street) to the Mission's district nightclub hot spot (R&S, quick slice of pizza), and finally past the new ballpark, under the giant Bay Bridge on the waterfront and back home.
Now that's entertainment, recreation and one unforgettable experience. Every week.