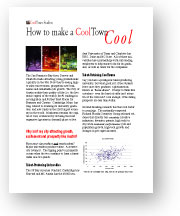 A great vision doesn't really matter if it can't be implemented. Implementation doesn't mean much if it no one cared for the vision.
The key to the CoolTown Program is to combine a great vision with the financial capacity to implement it. That means letting the people who will live/work in the community design it, and finding investors who will finance it.
The program summary, which is downloadable, begins:
"The San Francisco Bay Area, Denver and Charlotte made attracting young professionals a priority in the '90s. Now they're seeing higher sales tax revenues, prosperous new businesses and remarkable job growth. The City of Austin credits their quality of life (i.e. the live music capital of the world) for #1 rankings in net migration and Forbes' Best Places for Business and Careers. Cambridge, Mass. has long catered to retaining its university graduates, and now ranks as the 23rd largest economy in the world. Manhattan remains the capital of cool, evidenced by its being the most expensive (greatest in demand) place to live.
Why isn't my city attracting growth, excitement and prosperity like Austin?"