Grocery shopping – something for everyone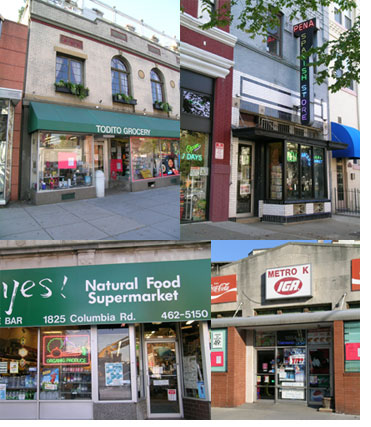 Three key attributes of CoolTowns are choice, convenience and diversity. That's certainly the case when grocery shopping, and I'll use Adams Morgan as an example, all within walking distance from my home.
As you discovered this week, there's no shortage of large-scale supermarkets, with a Whole Foods and two Safeways There's also a small, discrete Safeway.
Going clockwise from top left in the image, there's a late-night grocery that's a popular stop-over before going to people's homes/parties (beer/wine/snacks) where shop owners can theoretically live above (don't know if they do), a great Latin store where I used to get all my tortillas, an independently-owned supermarket where I make all my emergency purchases, and one of the best small natural food stores around. There's even a 7-11 one block away, but I can't find anything there relevant to my lifestyle :)
There's also two farmer's markets (2 blocks, 6 blocks away) on the weekends, with some of the best peaches and tomatoes money can buy. I guess a cool neighborhood is a giant supermarket unto itself.