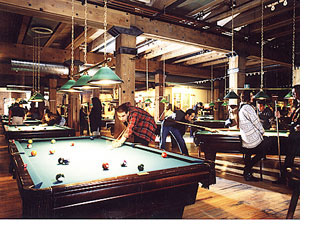 The image to the left is the Wynkoop brewpub in Lower Downtown (LoDo), Denver – keep that in mind…
Economic development ain't what it used to be. Just listen to Mayor John Hickenlooper from this Denver Post article:
"The days when offering a big subsidy was enough to attract a major company are over. Cities used to consider cultural life as symphonies, operas and ballet companies. All those are still important, but now we should embrace struggling artists, bluegrass bands, young talent of all kind. Most people aren't loyal to a company, but they can be loyal to a place." Hickenlooper said.
Now, is it any coincidence that Hickenlooper was a successful entrepreneur who helped revitalize Denver's notoriously hip LoDo? …and yes, he founded and owns that Wynkoop brewpub – now how cool is that!
Hickenlooper's economic development strategy includes hiring a full-time person to market Denver as a 'cool city', encouraging local businesses to spend 1% of their annual payroll buying local art, and using Austin, Texas as a model and helping local musicians find corporate gigs. Of course, Denver has business development programs to nurture the entrepreneurs once they're attracted to the area.
Speaking of Austin, in the 1990s, "Mayor Kirk Watson realized that for the city to be successful, it had to promote convergence between technology, Austin's music scene and its unique, laid-back lifestyle." from Fast Company Magazine. So, what's the former mayor doing now? He's giving presentations across the country on how cities can build a more creative scene like Austin's.