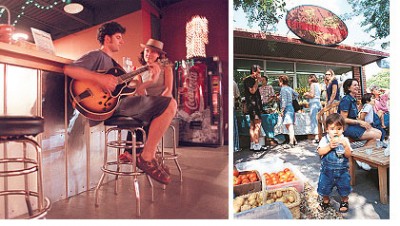 Community profiler ePodunk ranked the top college towns in their College Town Index. Focusing on the community rather than the colleges, some of the criteria include restaurants; book, music and periodical stores; entertainment offerings; and publishers, recording studios and other information-oriented companies, among the usual economic demographics.
A summary of the rankings:
Big Cities
1 Boston-Cambridge, MA
2 Minneapolis, MN
3 Denver, CO
4 Columbus, OH
5 Seattle, WA
Medium-Sized Cities
1 Columbia, SC
2 Tallahassee, FL
3 Madison, WI
4 Urbana-Champaign, IL
5 Ann Arbor, MI
Small Cities
1 Charlottesville, VA
2 Bozeman, MT
3 Hays, KS
4 Boulder, CO
5 Missoula, MT
Towns
1 Hanover, NH
2 Princeton, NJ
3 Brookings, SD
4 Middlebury, VT
5 Durango, CO
The full list, criteria and individual college town profiles are right here.
Image: How about Athens, GA?