The Creating Cool conference: Part 1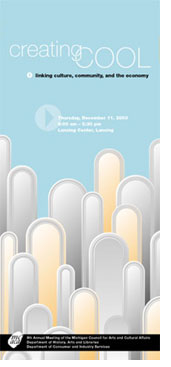 How big a trend is this 'cool town' thing? The organizers for today's Creating Cool conference in Lansing, Michigan were expecting 700 attendees. There were 1400.
Governor Jennifer Granholm opened the one-day event, and I'd have to say I haven't witnessed a cooler governor. She wasn't out there giving a typical political speech with statistics and policy promises, she was out there impassioning people to think creatively, to think cool.
Richard Florida was the keynote, and he gave an inspiring summary of his best-selling Rise of the Creative Class. One of his main points, seemingly influenced by political pressure, was that creative people could be absolutely anyone. His most effective story that drew gasps from the audience was how his university (Carnegie-Mellon) and the City had worked hard to incubate and develop a homegrown business (Lycos), positioning it to become a beacon to revitalize Pittsburgh's economy, until it moved to Boston – to access it's existing base of creative talent.
More in Friday's blog.