CoolTown piazza 1: The coffeehouse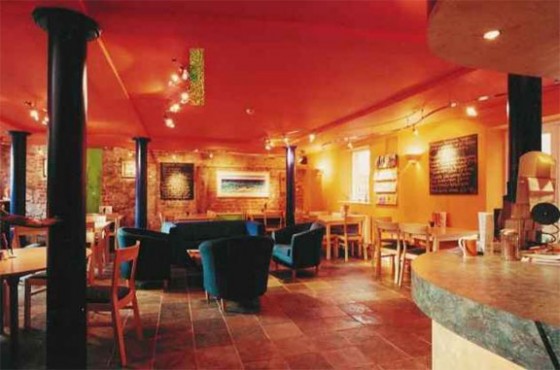 This week I'll take a look at what the ideal shops, restaurants, entertainment and services would be on a CoolTown main street, or even better, a piazza. Thus, imagine the coolest of main streets as a piazza.
Essential #1 – These are the things a CoolTown piazza can't be without:
The hang-out coffeehouse. The one with the local owners, local art on the walls, local live bands stopping by (see the pattern?) and bulletin board stuffed with ads from people selling bikes to seeking housemates. The coffee has to be the best in the neighborhood (because the owners do impeccable research) and the place not only has a multitude of comfy couches, but a communal table as well. Free wireless internet, because it costs the owners next to nothing to provide it and their customers know it. The music can't be too loud, because people come here to talk, gossip and pontificate on business ideas. If the music has to be loud in order to create 'atmosphere', you're in the wrong place. Think of the Central Perk. Also, the coolest coffee shops have innovative events, from New Year's slumber parties to poetry slams. It should have enough inexpensive menu items for creatives to be able to hang out there every day.
How big should they be? Depends on the size of the surrounding population, and if you want more than one. One place can be small and intimate, another can be larger that serves mixed drinks and draft beer at night. You kind of need both, actually.
Without a doubt, the best coffee shops are an expression of art unto themselves.