CoolTown piazza 3: The pub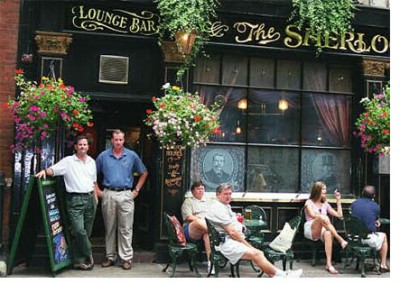 Essential #3 – The things a CoolTown piazza can't be without:
The pub – Where everybody knows your name. The pub is a standard in England, and the typical ones there are small, very homey, lots of wood floors, walls and furniture, and a line of regulars parked on the bar stools. For some, that bar stool is the equivalent of the couch in the living room, while the buzz of conversation in the air replaces your television set. Well in fact, many pubs do have a "tellie" just for that reason – if there's breaking news, an important speech, a major game or a national event – you want to catch it with your buddies to have something ripe to talk about over the next couple of hours.
You don't have music blasting at a pub – you go there to unwind and talk a mean story with your mates. I was fortunate to stay at a friend's home in the quaint Streatley-Goring area north of Reading in England, and the pub was across the road – literally. I also remember tearing my shorts trying to sneak back in the house one late night.
Again – inexpensive menu items so the creatives can become regulars.