The neighborhood piazza – the campo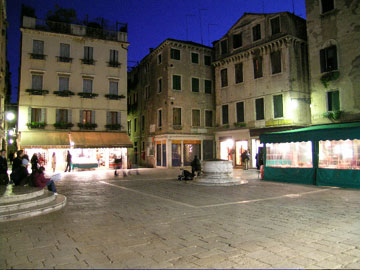 Italians in the second millennium were all about socializing. Not only does the city have a grand piazza upon where city-wide events, announcements and demonstrations took place, but every neighborhood had one, two or three of them for their own purposes as well. In fact, the neighborhood piazza has its own name – the campo, or campi for plural.
There were probably fifty to sixty campi in Venice alone – the piazza capital of Italy. Of course it has its grand piazza, the famous Piazza San Marco, but unless you're shopping for $100 shot glasses, this isn't the place to hang out too long.
If you want to see the piazzas and campi in their best form – visit Venice in the summer (same as the U.S. calendar summer), as even 30 degrees is too cold for Italians to eat outside. 50 degrees is another story however.