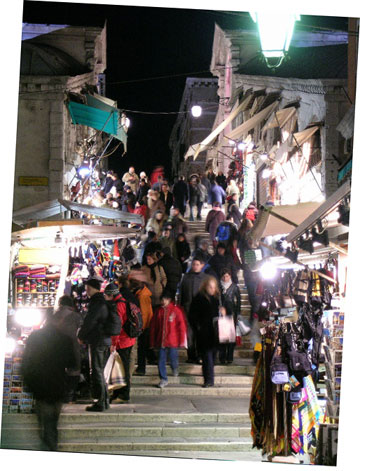 It's around 8 pm and the temperature's around 40 degrees F, yet the streets are full of potential buyers for Venice's local merchants. What's the secret?
Traffic. This bridge, the famous Rialto, is one of only three in Venice, and they're already about a half mile walk apart. Adding the fact that this is the central bridge, that's a lot of foot traffic. The genius is in lining the bridge with merchants to take advantage of it, both established storefronts and temporary vendors.
Uniqueness. There's no chains, just charismatic business owners selling one-of-a-kind merchandise, like glassware from the nearby world-renowned glass-making island of Murano, or one-strap backpack designs that can't be found in the U.S.
A town center environment. Water taxis, restaurants, hotels, cafes and bars surround the bridge, most of which are local businesses themselves. In an urban environment like no other in the world, one would expect the businesses to follow the same path. Sounds pretty cool huh?