CoolTown Resource: Fast Company magazine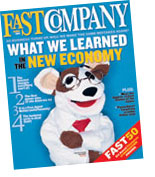 If you want to understand the CoolTown market from a jobs point of view, it'd be helpful to subscribe to Fast Company magazine.
The magazine is a collection of stories about companies and people that are achieving success faster than their competition. It's not so much about speed as it is that they're combining experience with innovation to perform at a much higher level than their peers.
It's the only magazine that I've read cover to cover (as in every single article) in this century. This recent story was especially sobering.
From the magazine's editor: We know that competitive advantage goes to fast-moving people and organizations that embrace change and welcome innovation brought about by new advances in technology and globalization. And we believe that there is a new and growing number of innovators, leaders, and change agents who are reshaping the future of business – for good, for better, and forever.