Live-work from an artist's point of view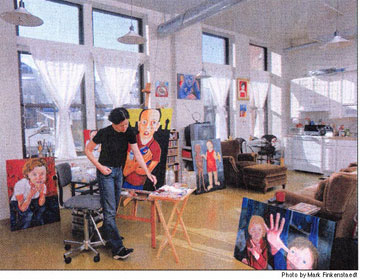 With all the buzz about how creativity is vitalizing economies, it's imperative to understand what motivates the creative people at the heart of it all, like Dana Ellyn, one of Washington DC's rising artists…
"Living in the suburbs is not an option for me as an artist for many reasons. My art is often inspired by what's going on around me and events in the news. It is tremendously important for me to feel a part of what's happening.
People often live in the suburbs because it makes them feel "safe." Maybe they want a house and a yard. Many years ago, I briefly did the whole suburban thing. The surroundings drained my creativity… the strip malls, chain stores, moms with babies, conversations about sports, money and corporate America. What's important to me is painting. I want to leave behind a body of work that documents my life and the times I experienced.
Living in downtown DC also lends me immediate access to DC's wonderful (and free!) museums. I don't need a car. I don't want a car – I refuse to buy into that part of our economy.
One thing that I hope happens is that the current live/work projects prove to be such a successful model that it inspires more developers to want to take part in the future. I'm doing what I can to get the word out and gush about how amazing this has been for me.
I think building in at-risk neighborhoods is one good possibility. Real estate would be cheaper and that means larger spaces for less money. Sharing space and/or amenities could work and if it makes or breaks the deal, I'd do it. But, smaller units should be the last resort. Space is key for me."
I am fortunate enough to be a part of the Cultural Development Corporation's alliance with PN Hoffman and the Mather Studios. It's a beautiful building in a safe and incredibly convenient part of DC. They built the artists units with all the amenities – washer/drier, dishwasher, beautifully finished. I'd be just as able to paint if my toilet was in the middle of the living room instead of tucked away inside a lovely bathroom. My beans and rice would be just as delicious if they were cooked on a hot plate instead of my new stove. It's about the art, not the decor.
Read more here.