The University of MD living/learning program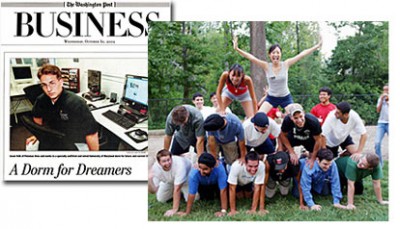 The University of Maryland Hinman CEOs program is one of the best small-scale examples of interpreting what the creative entrepreneurial market really wants, from a university student point of view.
Creative, entrepreneurial students wanted to be around one another, as often as they could. They wanted places to network informally (ie the late night conversations with business ideas on paper napkins) and formally (ie give multimedia presentations). They wanted fast internet and inexpensive housing.
They got what they wanted, and more. They all live in a single 'mini-neighborhood' where everyone is formally planning or running their own business. They pay $650/mo. for shared housing (with fellow entrepreneurs), fast internet, a board room, lounges for networking and a computer room. What they didn't expect was to be having so much fun that they don't sleep more than five hours a night. They're also spontaneously building trusting business relationships, ones that will last well beyond their stay at the university.
By the way, I interviewed them and it was near unanimous they were looking for an urban environment post-graduation. They also mentioned that to continue the living/learning environment after graduating would be too good to believe.
Click here for a more in-depth story from the Boston Globe.