Better than Bigger: Personalization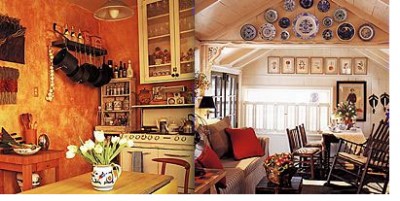 OK, so the images are a bit Martha Stewartish, but one of the key principles of The Not So Big House is to make the place your own. As the author states, a well-designed personalized home can have more truly livable space than a home twice its size.
Just at its more interesting to walk into a restaurant with the ducts and pipes exposed under a tall ceiling compared to a low, flat, plaster hung ceiling with fluorescent lighting, a home that shows what makes it 'tick' is that much more appealing. Display your favorite art work, photos, paint colors, cookware, dishware, books, hobbies, lamps, etc. You know something's wrong if the main reason people don't want to add their personal touch is because they're worried about resale value.
Images from Designing for Small Homes