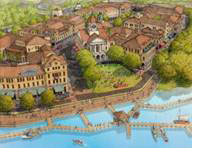 75% of home buyers want the option of walking or biking to work or to shops, according to a survey by American Lives, an innovative market research firm.
A Belden, Russonello and Stewart national focus group study suggests renters with no children and empty nesters are more likely to choose a smaller lot in a livable community area where they can walk to stores, etc.
A Fannie Mae survey found that people believe a great neighborhood is more important than a great house.
Finally, in the SF Bay Area, 65% of the residents near light rail stations are 17 to 34 years of age (ie gen xers and yers).
Then why are the vast majority of new homes built as unwalkable subdivisions? The answer tomorrow, and how you can participate.
Image: The work of renowned town planners, Dover-Kohl