Charrette results from tonight to be posted. This week's poll up!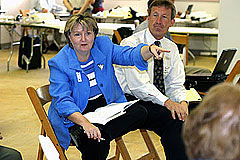 Stay tuned to see the results of the week-long charrette to design an entrepreneurial village. It will be revealed at a formal presentation tonight, images posted here soon after. You can also keep track on the charrette web site here.
In the meantime, this week's poll asks if you'd live in an entrepreneurial village.
Click here to vote, add your own suggestions or view results. You need to register (just once!) to vote.
Image: That's Nancy Regelin of the entrepreneur village development team JBG. I can honestly state that after meeting her, she really wants to hear what you all have to say.