Upper Rock District Plan #1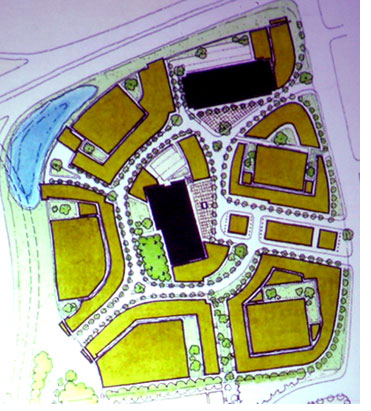 The newly planned Upper Rock District, covered in the blog this week, came with two alternative master plans. Here's the first one.
Affordability:The highlight, as described yesterday, is the entreprenerial marketplace, designed for 'starving entrepreneurs'. The urban plaza terminating one end of it provides a stage for free entertainment. The majority of lofts comprising the project are open floor plan with little finishings to keep costs low.
Job Creation: The entrepreneurial marketplace and lofts are designed as workplaces for fast-growth companies. Both the project and nearby King Farm provide multiple spontaneous meeting spots and third places, and access to major financial districts is two blocks away via light rail/subway.
Experience Entertainment: This more organic, medieval layout presents a more humanistic feeling, encouraging walking and street life. There are no long streets that encourage speeding traffic and parking garages are hidden, all to provide the residents with a predominantly people-oriented experience. The central urban plaza will be the marquee entertainment stage, and several key restaurants are planned surrounding the entrepreneurial marketplace. Entertainment is also a few blocks away at King Farm's town center as well as in Washington DC via Metro.
One note: Unlike the ancient city plans of Rome and Dubrovnik, Croatia, the buildings here are shaped by the auto-oriented roads rather than vice versa.
What do you think?