Upper Rock District Plan #2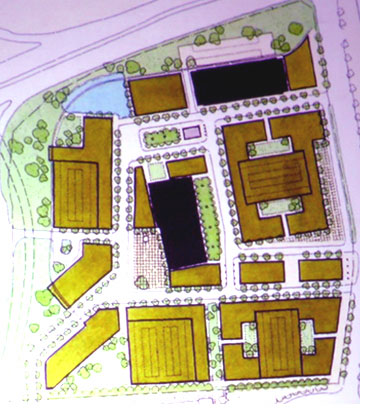 Here's the other master plan proposal for the Upper Rock District. While it has the same level of affordability and job creation opportunities, the entertainment experience has a few subtle differences:
This has a more traditional grid layout, maintaining the fabric of the adjacent King Farm community, so it's a little more car-oriented. The urban plaza (the CoolTown piazza) isn't as well defined as in plan #1 – it only has buildings fronting two sides of it instead of three and one corner of it kind of fades away. The blocks are smaller than in plan 2, and the rectilinear edges help define better outdoor rooms (ie third places) as well, which encourages street life, lingering pedestrians and urban vitality.
The entrepreneurial marketplace is in the same general location, though it seems larger than plan #1. Both plans have the same office-turned loft building, 40% open space requirement (written into law when the word 'urban' was a dirty word), green roofs, and environmental green wall shielding the northwest side of the project from heavy highway traffic.
What do you think?