How popular is dining out?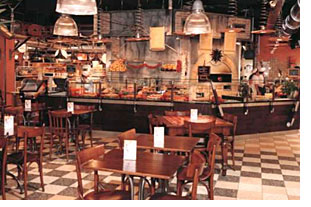 Quite a bit according to our CoolTown poll.
The statistics seem to back that up. Growth figures for US retail sales from 1967-1993 (alas, they don't have the last ten years):
Restaurant and Entertainment: 102%
Food at home (i.e. groceries): 26%
Furniture: 79%
Building materials: 78%
General merchandise: 46%
Clothing: 31%
(Personal income growth: 83%)
That's why we could use more places like Brek, a very affordable, fresh hot food, self-serve restaurant with class (see image). The kind of place you could eat at three times a day.
Source: Professor Bill Wheaton, MIT CRE/Sloan Course #11.433 Real Estate Economics, Spring 2004