"Pistons a model worth duplicating"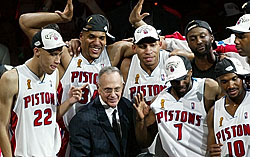 Houston Chronicle: Pistons a model worth duplicating
Click here to learn what economic gardening did for the Florida Marlins, and what it did for the Detroit Pistons as they won the NBA championship on Tuesday.
"The virtues of teamwork, sacrifice, dedication and determination defeated one of the most glamorous collections of superstars assembled… The Pistons beat a Lakers team with four future Hall of Famers… Pistons guard Mike James – "We call ourselves the misfits. The NBA overlooked us. Everyone said that we're not good enough. But you know what though? We're a family. We hang out together on the road. We love one another. We respect one another like we're brothers. I've never been on a team like this in my life."
The Pistons are an economic development model of how a teamwork-oriented program will attract undeveloped talent (NBA players are free to choose whatever team they want as free agents), and what happens when that talent is developed as a working 'community'. It also helps illustrate how attracting the superstar players (ie the Fortune 500s) isn't always the most effective.