Best College Towns: Ann Arbor MI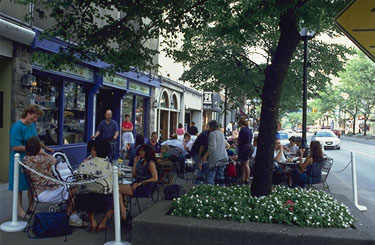 Keys to Ann Arbor's popularity with the University of Michigan's 41K students:
1. Entertainment
– The Ann Arbor Film Festival is one of the oldest and most prestigious film festivals in North America. The Ann Arbor Art Fair: Every year, from Wednesday to Saturday of the second week in July, the population of Ann Arbor explodes (1200 exhibitors, 750,000 visitors) with three art fairs on eighteen blocks. Then there's the Blues and Jazz Festival in the fall and the Ann Arbor Folk Festival in the winter.
– There is a strong Mom & Pop presence throughout the town. Ann Arbor boasts a vast diversity of restaurants, cafes and pubs, and especially known for its myriad bookstores and coffee shops. The oldest brewpub in town, the Arbor Brewing Company was voted "Best Brewpub in the Midwest" by the National Brewpub Conference and Tradeshow and BrewPub magazine.
2. Jobs
Ann Arbor has a very low unemployment rate, a top engineering school and home to a slew of IT companies. Borders Bookstore and Dominos Pizza were founded here as well (which may explain why there are so many good bookstores and pizza joints.)
Cons
Ann Arbor is fast becoming a yuppie town if not already so. Starbucks is making a more noticeable presence and students are describing dining out as pricey, expensive.