What makes a great college town?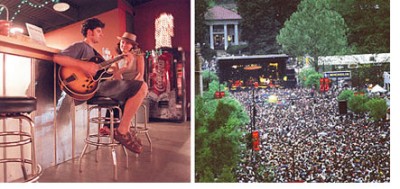 The best college towns are entirely unique.
Students are looking for a diversity of very affordable choices to entertain and feed themselves within walking distance from the university. The most popular venues within these places provide something unique that can't be found anywhere else, whether it's an award-winning draft beer at a factory-turned-brewpub, an 18-block art & entertainment fest, or a musicians' incubator.
Creating a successful college town is more about establishing a diverse, creative environment where the most eccentric, innovative and bold entrepreneurs thrive and are inspired to provide the kind of food, service and atmosphere that emotionally grabs people. It is not about creating a formal system for attracting retail and restaurants much the same way shopping malls are done.
Click here for more on this subject, as well as examples.