A cool site for getting to work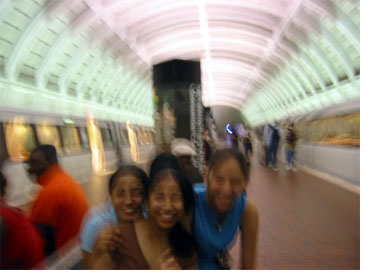 A cool site for getting to work
A fundamental principle of CoolTowns is to offer its residents/workers an environment based on choice and convenience. Arlington County in Virginia is a model for how government can play a role in that regarding commuting. Their program director, Chris Hamilton put it best, "The urban village pedestrian system won't work until we get people out of the cars."
If you're fed up with the traffic congestion or simply don't have or want a car, Arlington's Commuter Page makes it easy to figure out what to do next. They must have spent a lot of $ on this site because it's extremely user-friendly.
Subway/buses/rail: Links to maps, schedules, passes and employer vouchers for the subway, buses and inter-city trains. Even a ride finder (mapquest for alt transit).
Bicycling/walking: Links to commuting maps, transit instructions and even a guranteed ride home program (free to commuters) for emergencies when you get stuck without transit access.
Carpooling: If you're either seeking or offering a carpool, their Commuter Connections will match you up!
Car sharing: See yesterday's blog.
Telework: Either no commute at all (work at home) or a satellite office in your neighborhood.