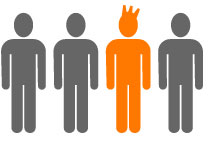 The "age of I"
What is the "age of I"? Individualism with a sense of community.
The movement from mass production to mass customization is becoming standard practice. How does this relate to us as individuals and our psyche? As quoted by one Fortune 500 executive* in BusinessWeek:
"I think this "age of I" is our biggest opportunity and our biggest challenge. This idea that people want to be individuals and want to belong at the same time is a huge concept. It used to be if you belonged to a group, you gave up your individuality. You got homogenized. Then, it was, I want to be me, only me. You remember that era.
Today, that's viewed as selfish. The modern consumers want the best of both worlds: I like the family feeling of belonging to a bigger group, but I shouldn't have to sacrifice my individuality in order to feel I belong."
This captures the essence of CoolTowns. It's important to understand this is a national economic evolution that the most powerful corporations are focusing on, and not just a grassroots underground shift. Read more in our ongoing CoolTown mass customization blog series.
*The executive is the global chief marketing officer for McDonald's, which doesn't fit /a> the CoolTown vision, but they do invest tens of millions in understanding today's market.