Live-above' live-work units for the rest of us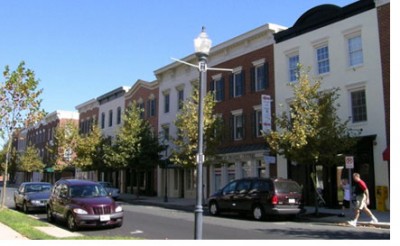 Wouldn't it be great to live above your own business, just like each of the people who own 'live-above' units as in the image, located in Kentlands, Gaithersburg MD?
Got $400,000?
Maybe that's why the live-above type of live-work unit just isn't in most of our fields of future vision, and perhaps why urban loft live-work units are.
It doesn't have to be that way though, not unless you're one of the early buyers (or better yet, a beta resident)*, can live without luxury features, and amenable to 1000 sq.ft. for the ground floor commercial, and 1000 sq.ft. for the second floor residential. The third (and/or fourth) story would be an entirely separate unit.
Then you 'only' need $200,000 (much less in non-gentrified areas), and you'd also have income from either your ground-floor business or if you leased it out.
*Early residents don't pay the appreciation in value that already established, thriving neighborhoods gain. The earlier the better.