When should company employees work at home?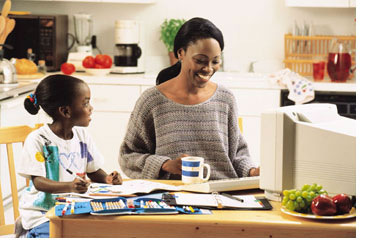 More and more government and company employees are working at home or in satellite centers, at least part-time. Why?
– Companies don't have to pay for office space.
– Employees don't have to commute
– Technology is allowing people to collaborate virtually
– Satellite offices bring workplaces closer to more people. In other words, one giant company campus is close to a few, and far away for many. Several company offices (satellite centers) are close to many, far for few. The employees enjoy a higher quality of life and the companies have access to more talent (desired talent won't put up with long commutes.)
The big question is, which employees are the best candidates for teleworking? According to the authors of the new book The Case for Virtual Business Processes: Reduce Costs, Improve Efficiencies, and Focus on Your Core Business, these are the people who handle "virtual processes" – "processes by which physical infrastructure, representing sunk costs, can be replaced with electronic infrastructure. In a nutshell, they identify any person in a non-core competency (not contributing directly toward increasing revenues faster than industry averages) as a candidate.
So what's a CoolTown telework center?