The CoolTown satellite office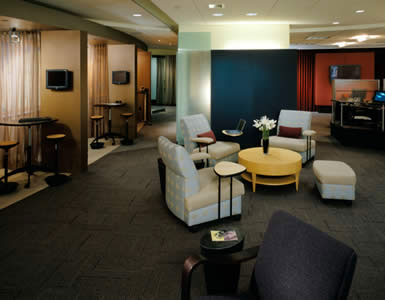 What is a satellite office? One definition: A type of telecommute using office locations typically operated by and for a single employer that are away from the employer's primary work site.
What is a CoolTown satellite office? A satellite workplace that excites employees.
The image is from the Future@Work exhibit in Seattle, a demonstration of integrated design and management approaches for modern workers. Notice the diversity of workplaces in one area, from casual collaborative settings, to individual stations, to more traditional desks – reflecting the diversity of workers and their needs/styles.
One other note – a CoolTown satellite office must be in a vibrant commercial area (ie a CoolTown) – otherwise it's highly likely it will fail. Why? Worker like to be, need to be near business services (ie printing, mailing), meeting places (cafes, restaurants, networking mixers), and entertainment (happy hours).