Davis Square: Creative, healthy, and fun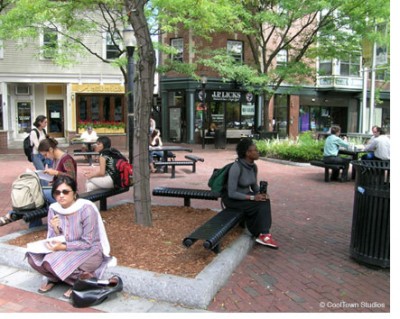 While Harvard and MIT each have excellent town centers nearby, the neighboring students at Tufts University enjoy probably the best combination of atmosphere, entertainment and true affordability at Davis Square in Somerville, among our vists to the top four Greater Cambridge squares.
It had the most habitable square of any of the Cambride squares, where people could study, read, meet for lunch or play a game of cards. It's Somerville Theater is the only venue that you could see recent box office hits for $5, or live music concerts for a bit more. It has two funky cafes with fresh sandwiches (Diesel Cafe and Carberry's), a diner in a rail car (Rosebud Bar & Grill), popular pubs with character (The Burren), a slew of yoga and massage studios, and the quintessential student coffee house hangout with old chairs and unfinished walls – the aptly named Someday Cafe.
Photos of all these places are in the members section.