Where's the heart of entertainment in Ann Arbor?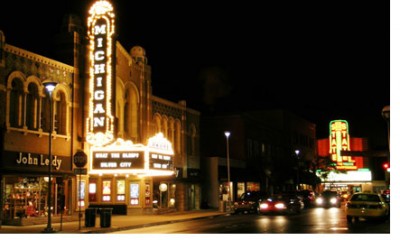 If there's only one area to go in Ann Arbor for entertainment, that's at East Liberty and State Street, home of the Michigan Theater and State Theater.
They're both historic theaters, which seem to be the creative choice for the best entertainment in our five-city tour through Cambridge, Madison, Athens, Burlington and Ann Arbor. Independent and foreign films, midnight showings, live music and comedians make up the daily schedule, but the most appealing trait of these theaters is that they're walkable to and from people's homes and favorite cafes.
Ann Arbor is the only one with two right next to each other. The 'Mich' is for the big shows, the State is a two theater venue with 100 seats, cut down to size by the Urban Outfitters next door.