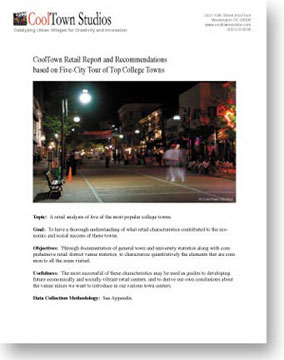 What are the most successful trends in retail for the creative class? One of the best ways to find out is to visit five of the most successful creative class-oriented towns and their neighborhoods and not only study the overall retail mix, but the most popular venues as well. The cities included Cambridge MA, Madison WI, Athens GA, Burlington VT and Ann Arbor MI.
The study conclusions, an extensive collection of photos, statistics, and focus group results are provided in the exclusive 21-page Town Center Retail Study of Five Progressive Towns, which is paired with the Loft Housing Report for $119 and can be ordered by emailing here.
I can tell you that 87% of the retail businesses were independents, and 44% of all establishments were restaurants/bars, which basically tells you that socializing among the locals is something to think about when building contemporary town centers… and don't forget lots and lots of outdoor seating.