Personalized mass transit?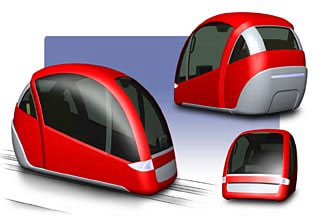 Transportation really hasn't changed much in the last 100 years – we still have trains and cars. You still have to wait for trains longer than you want to and they don't go exactly where you want them to, when you want them to. Cars are increasingly inefficient as traffic congestion grows, among the myriad other problems they cause.
Personalized Rapid Transit (pictured) may be the next big thing in mobility, though perhaps not for another fifty years. Check out the video – it's fun to watch, but the music needs to go, seriously. The vehicles are referred to as taxis since you don't have to wait – the cars are waiting for you, thereby passing the all important mass transit 5-minute rule. You just jump in, tell it where to go, and off it zips. Because they're either above ground or below ground (ideal) there's no traffic congestion, and best of all it makes ground-level streets safer and potentially much more pedestrian-oriented.