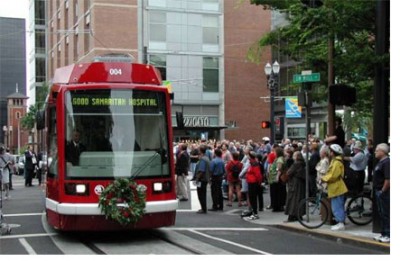 While the next generation of mass customized, personalized mass transit won't arrive for decades, we're going back to the future for the closest thing today – the streetcar.
Boston, Portland, Seattle, Tampa, San Francisco, Charlotte, Tucson and New Orleans are just a few of the many cities that revived streetcars. Denver, Washington DC, Minneapolis, Philadelphia and Boulder are considering it. Why? Because they're efficient, small, quiet, air-conditioned and best situated to pass the golden 5-minute rule of waiting for transit. By the way, is it any coincidence that the aforementioned cities are also among the most popular, prosperous and cool?
Why did the streetcars disappear in the first place when they were so popular in the early 20th century? Rent a copy of Who Framed Roger Rabbit? – or read how GM bought out the streetcar systems under subsidiary names, dismantled them, burned them in celebratory funeral pyres and established the Greyhound bus system.