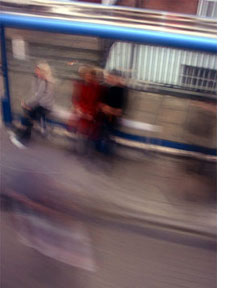 Here's a summary of how the CoolTown entries on mobility may fit together, which includes transportation:
There are millions of people who would live in a city with only pedestrians and no cars. It'd have lots of piazzas and paseos with subways in the larger cities.
While not a reality for most cities, they ought to take a long hard look at bus rapid transit (BRT) and streetcars instead of light rail and buses. BRT and streetcars are much more efficient, cost-effective, quiet – and cooler. Hmm, a BRT streetcar is probably the most efficient of all, but it hasn't quite been invented yet.
Cars still rule most of our cities, so hide the parking from pedestrian areas, use stacked parking systems in garages and car sharing instead of parking lots.
Bookmark this article – it'll be updated in the months ahead.