Sienna's version of a portal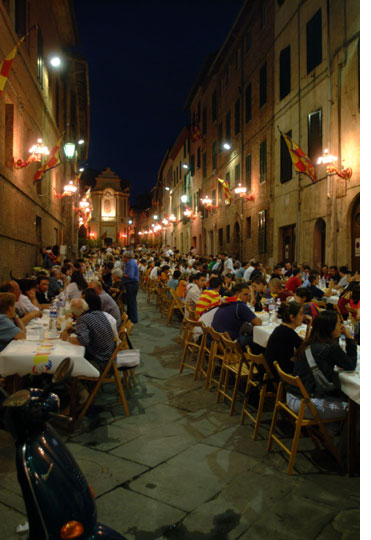 It's tradition in Spain and Portugal to have family dinners outdoors, and to have it as a social event as well, which is why you'll find so many paseos (pedestrian-only streets). Think of it as a street by day and a grand outdoor dining room by night.
Unfortunately we don't have too many of these kinds of places in this country, and rarer so in neighborhoods that would benefit from such community-building events. That makes it even harder for people to socialize and meet new people as it is, as many of us have come to depend on online venues rather than physical venues, a necessity when in a built environment geared toward moving people around rather than keeping them in one place.
The key is to recognize that the two are not mutually exclusive, but very complementary. Imagine if there were weekly physical places like this for online Friendsters to meet, eat and talk face to face.