You know there's a strong sense of community when…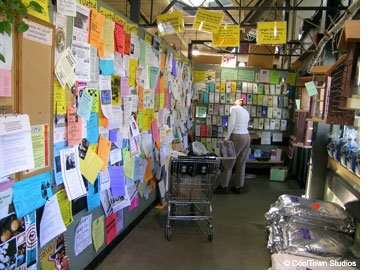 …the walls at the neighborhood supermarket are plastered with personal classified ads and event flyers for local events. This is one of the best examples I've seen, at the Hunger Mountain Co-op in Montpelier, VT. The fact that it's a co-op is another tell-tale sign of a strong sense of community.
One thing that surprises me is that while there's a number of online classified ad services and event listings for cities and towns, it doesn't drill down to the local neighborhood. How about a single online bulletin board page for checking out that evening's happy hours, dinner specials and live music on your main street, the same way one checks out the TV guide on one page? Actually, I'll present a solution to this in a few months. Stay tuned.