High tea at the workplace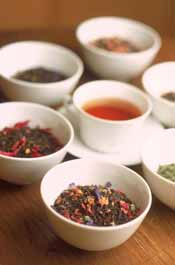 What are one of the benefits of being in a workplace full of entrepreneurial, creative people? You get something entirely spontaneous like High Tea at the Lab.
Take one very creative person recently inspired by a trip to London (no coincidence that London is a compelling place to be), and watch them do the following:
Provide an announcement for "high tea" after work at 4 pm, and play some rather English-oriented music. Then provide everyone with a menu for tea, sandwiches and pastries, from which the so-inspired person delivers their choices, followed by a nice flow of conversation by people who are now all in a very good mood.
I'm sure that restaurants (and yes, even workplaces) host special events and create experiences like this. If anyone knows of any good ones, I'd really like to present them here!
By the way, in England, the workplace high tea really is at 4 pm every day, then people work from 5-6, then go home. A nice respite from the daily grind, no pun intended.