Since when does dining in an alley provide a great view?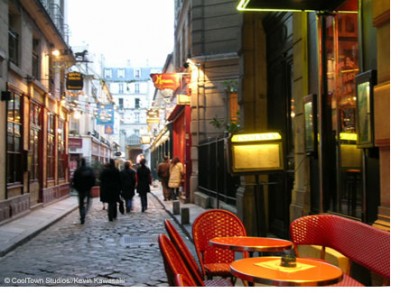 The answer? When you focus on designing great alleys.
Narrow, pedestrian-only streets (paseos) are becoming quite popular. They help focus attention on people, the most interesting subject matter to the human eye. This 'people stage' is made more dramatic with a terminating building(s).
Building facades that feature human-scaled, human-designed detailing are that much more appealing to – humans, especially if you intend to look at it longer than a minute or two. The same goes for the materials used on the ground, which is why brick (and cobblestone) make a huge difference. Good lighting design helps to highlight the best of those details, including the dining area.
Next blog – San Francisco's hidden Parisian alley experience.