The secret to Boulder's downtown pedestrian street?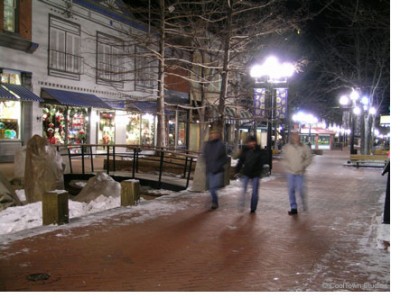 Boulder's downtown pedestrian street (Pearl Street) is one of only a few in the U.S. that survived the regional enclosed mall phase that began in the 1960s and now ending. What's their secret?
Pearl Street's shops and restaurants account for only 30% of its square footage, all on the ground floor. A whopping 52% is devoted to private offices, mainly on the second and third floors, while the rest (18%) is government offices and other civic uses as churches, the bus depot, and police station. What this means is that there's a constant daytime population (e.g. office workers) to not only patronize the restaurants and shops, but just as importantly to provide a sense of life on the streets to attract visitors. Even housing is on its way, and that will provide the 24/7 population that helps ensure a high level of street vitality.
Image: This was taken at 11 pm on a weekday night in below freezing weather, yet there were still people walking the street, presumably to and from the late night entertainment.