Why are these banners worth $50K?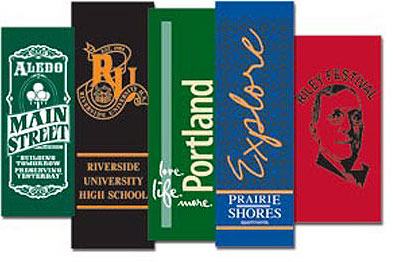 They're worth at least that much a year in cash to a main street, but that's just the beginning. Just ask Sylvia Allen of Allen Consulting, who is a guru at attracting sponsor dollars for main streets and has the following tip:
Simply putting up attractive vertical banners throughout a small downtown will bring in a good share of revenue to market its merchants, not to mention providing a tremendous amount of identity. People often identify a mall as a single, one-stop destination, but they often don't do so with a downtown because it's not so neatly defined. Thus, the need for some visual branding.
How the banners become a win-win deal is that 90% of it would market the name of the downtown itself, while 10% of it would provide the name of the sponsor, ideally a local business. It markets the downtown as a whole, advertises the local businesses and provides some warmth, soft edges and movement to an otherwise hardscape of buildings.
Next blog – An example of banners applied to a building.